Coconut Grove always feels like it just got a very good massage. There's a strange bubble around this historic neighborhood that blocks out the city's usual chaos, and coming here is like a warm bath Miami can slide into after a long day. This is also why the Grove is a perfect place for a carefree, lazy meal – which is exactly what you'll see people enjoying here on any given Saturday, from brunch till dinner.
This guide to the Grove has plenty of spots like that – where you can camp out at an outdoor table and look for peacocks. But there's more than just places to eat outside, like a Spanish restaurant inside a gas station and a Cuban cafe breaking traditional pastelito rules in the best ways possible. Keep these 15 spots in mind the next time you're hungry and need an escape from the city without wasting too much gas.
Ariete
$$$ | American, Cuban in Coconut Grove
There are other menus in Miami as strange and seemingly random as Ariete's, but there is no other place that pulls it off this well. If you're someone who can't decide whether you want a great cheeseburger, venison, funky cheeses, croquetas, or beef tongue tartine for dinner – congratulations, we've found your perfect restaurant. And even though Ariete serves some seriously intricate food, this place is relaxed enough for you to not stress about wearing shorts, or feel weird when you accidentally curse in front of your server after tasting the surprisingly great plantain gnocchi.
Shore To Door Fish Market
$$ | Seafood in Coconut Grove
Shore to Door is a fish market that also operates as a restaurant on the weekend for lunch. There's no menu here. Instead, the owner – who might be in the middle of cleaning a fish – will tell you what came in off the boat that morning. It could be fried corvina bites, whole yellowtail snapper, wahoo fish dip, or a dozen other sea creatures. But it will be delicious, and you can eat it in their fantastic backyard, with mismatched furniture and an atmosphere that feels very Key West. If you want a beer, just pop open the cooler and help yourself.
Minty Z
$$ | Chinese, Vegetarian, Vegan in Coconut Grove
Minty Z is a vegan dim sum restaurant in Coconut Grove that serves an assortment of dumplings, bao buns, and other plant-based dishes like a kimchi hot dog and buckwheat scallion pancakes. There's a lot to love about this food, whether you're vegan or not. The carrot and black sesame bao, a pillowy soft bun that has a slightly nutty taste and walks the ideal line between sweet and savory, will most likely be one of the most delicious things you've eaten this year. There are also a couple of outdoor tables and an interior with some fun pop art and snug tables good for dates.
Lokal
$$ | Burgers in Coconut Grove
If you're looking for a burger in or around Coconut Grove, the answer is always Lokal. But even if you're not craving the Juan's Fidy-Fidy with a patty that's half beef and half bacon, or their excellent version of a fast-food burger called Ronald's Better Half, it's still worth coming here for the New Mexico chili or fried alligator. Or you can just have a beer, stare at all the dogs people bring here, and try to convince your friends to save room for the '80s milkshake bar next door.
El Carajo Tapas and Wine
$$ | Spanish, Tapas in Coconut Grove
Most Miami gas station food consists of shriveled hotdogs and sketchy Jamaican beef patties, but El Carajo is a gas station where you'll actually want to eat. Past the pumps, candy, and cigarettes, there's a really great Spanish restaurant in the back, where you can order a pulpo al ajillo you'll absolutely finish, bacon-wrapped dates, and fluffy Spanish tortillas. There's also a ton of wine for sale here, which you can buy for your meal at retail price plus a $10 corkage fee.
The Original Daily Bread Marketplace
$$ | Middle Eastern in Coconut Grove
This place is part restaurant, part market and specializes in very good Middle Eastern food. Once you claim your spot in the cafeteria-style line, you can pick a salad, platter, or pita wrap, which you can order with things like falafel, kafta, shawarma, and sides including stuffed grape leaves and za'atar fries. It might be tough to get a table during the lunch rush, but you can always kill time browsing the market, where you'll find some delicious looking oils, tea, and other things you definitely will not see at Publix.
Tigertail & Mary
$$$ | American in Coconut Grove
This place feels like it's inside a very nice hotel in Miami Beach – with lots of light wood and natural light – and it's a nice change of pace from the Grove's smaller old-school spots, where it's usually hard to get to the bathroom without bumping into half the dining room. There's always a big lunch crowd and like the restaurant itself, the menu is quite large, with everything from pizza and sandwiches to a ribeye. But it's best to stick to the vegetables and seafood here, like the roasted sunchokes, some oysters, and if none of the fish sounds too exciting, the pizza is a good back-up plan.
Monty's Raw Bar
$$ | Seafood in Coconut Grove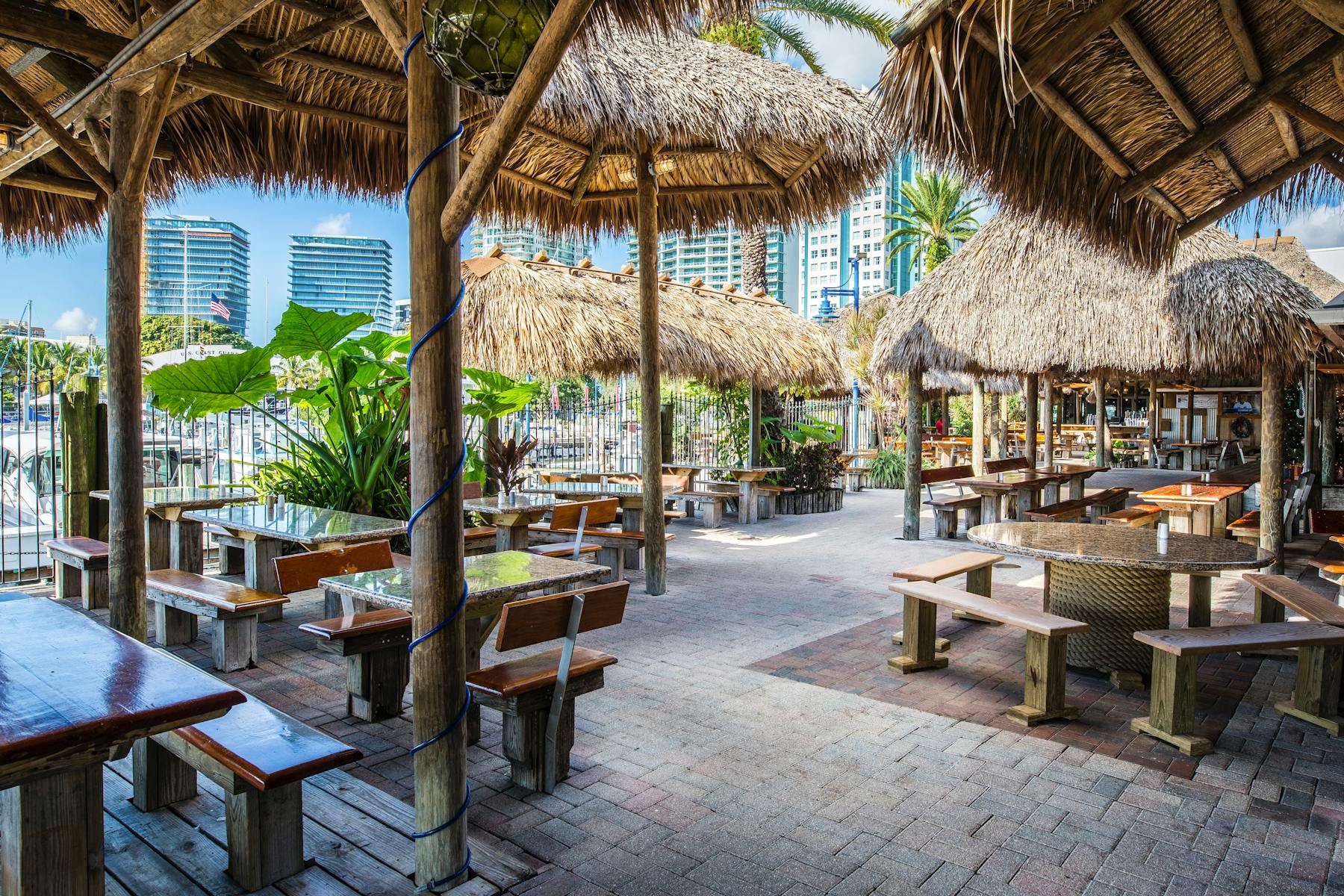 When we want to feel like we're in Key West without having to undergo that incredibly annoying drive, we go to Monty's – which is a mostly outdoor space with wooden tables and a thatched roof made from palm fronds. This is the kind of place you can accidentally get very drunk for a few different reasons: the frozen drinks are very strong but don't taste like it, the perfectly fine fried seafood is going to make you want to keep drinking them, and the very relaxing water view will make you want to stick around for at least one more drink.
For more than 50 years, Monty's Raw Bar has brought laid-back, tropical vibes to Miami. With its thatched umbrellas and breezes off Coconut Grove's Dinner Key Marina, Monty's is a prime after-boating destination. Kick back with an island cocktail and a bowl of conch chowder. Share a plate of chilled peel-and-eat shrimp while enjoying some live music. The restaurant is well-known for its festive happy hour.
Taurus
$$ | Bar Food, Bar in Coconut Grove
Proof used to have a brick-and-mortar location near Wynwood, but that sadly closed. However, the love for their pizza and the outstanding burger was enough to resurrect it. Now they operate out of Taurus Beer and Whiskey House, our favorite place to drink in the Grove. Seven days a week, you can find their pizza as well as some appetizers from Ariete next door – but if you want that burger on a freshly baked potato bun (and you really do), you've got to come on a Wednesday. That's the only day they serve them until they run out.
Glass and Vine
$$ | Latin, Fusion, Brunch in Coconut Grove
There tends to be more outdoor than indoor seating in the Grove, a neighborhood where it takes some serious self-control to not steal fries from people's plates as you walk by unsuspecting sidewalk tables. But Glass and Vine stands out, even among all the other places where you can eat outside. The restaurant's big patio dips into Peacock Park, a lovely bit of green space where you might actually see a peacock roaming around while you eat your watermelon salad and sweet potato tots. Having dinner here is fine, but this place is best for brunch and lunch when you can actually see the peacocks coming (before it's too late).
Chug's Diner
$$ | Cuban in Coconut Grove
Chug's is a small, casual spot from the people behind Ariete – and much like their sister restaurant, the food here is great. This place is a lot more recognizably Cuban, though not necessarily traditional. The excellent pastelitos are stuffed with peanut butter and guava jelly, the Cuban sandwich comes on sourdough with honey ham, and there are four different fritas topped with things like avocado and barbecue sauce. They also serve simple Cuban breakfast plates for under $10, which you can eat inside or outside on the patio.
Atchana's Homegrown Thai
$$ | Thai in Coconut Grove
Any Thai restaurant with a chunk of its menu dedicated exclusively to types of sriracha is off to a good start in our eyes. Thankfully that first impression continues through Atchana's very good food, which includes versions of pad thai, crispy duck, and fried "Son-in-Law Eggs." And if you happen to like one of those srirachas, you can take a bottle home, as we've done multiple times with the great mango version they make themselves.
Kush Coconut Grove
$$ | Seafood in Coconut Grove
Spillover is yet another member of the Lokal family – but instead of land animals, it's mostly about seafood here. The best time to check this place out is during Happy Hour when you can get beers for $4 and discounted dishes like oysters and fried snapper scraps, which taste like snapper doing an excellent impression of buffalo wings. Brunch here is also a good call, and includes some lighter things like avocado toast and a few excuses to just eat dessert in the morning, like homemade Pop-Tarts and butterscotch banana pecan french toast. Either way, sit outside if the weather gods allow it.
Harry's Pizzeria
$$ | Pizza in Coconut Grove
No matter which Harry's location you go to, the Neopolitan pizza is consistently great. But the one in the Grove is both casual and still nice enough for a date, weekend dinner, or any random night when you can't remember the last time you had pizza. The crust is big and bubbly and the dough is soft, but it's still a foldable slice you can eat with your hands. Toppings range from your typical margherita to rock shrimp or the excellent bacon and potato pie. There are snacks and a small entree selection too, but stick to the pizza and maybe a warm chocolate cookie if you're still hungry.
Bombay Darbar
$$ | Indian in Coconut Grove
Bombay Darbar is one of the best Indian restaurants in Miami. It's not a very subtle place, and the blue-and-purple neon lighting makes you feel like you're about to see David Guetta, not eat some very tasty lamb vindaloo. The menu is a massive greatest hits of basmati rice dishes, chicken, lamb, and things from the tandoor oven. The only hard ordering rule is to make sure you've got some naan on the table.
Written and published by The Infatuation